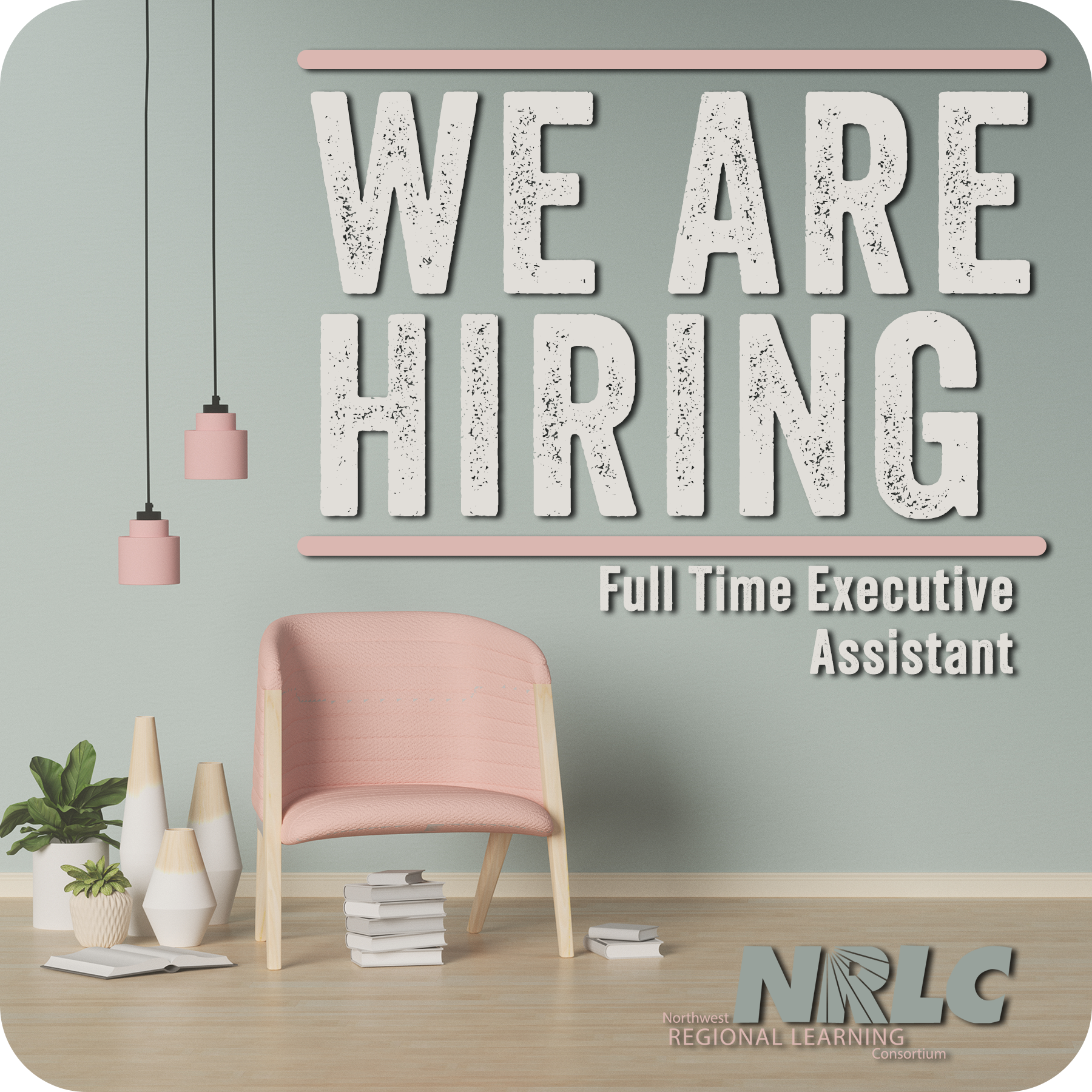 We are Hiring!
1 June, 2023
Northwest Regional Learning Consortium
Executive Assistant Position
Full-Time
NRLC is seeking a dynamic, energetic and outgoing individual for the full-time position (1.0 FTE) of Executive Assistant with duties commencing July 1, 2023 and ending June 30, 2024, with the possibility of extension. The position offers the opportunity for a hybrid work arrangement. The successful candidate will have the ability to work from home but should also be availability for onsite events.
The Executive Assistant is responsible for the efficient office operations, under the direction and supervision of the Executive Director. The Executive Assistant must possess the competencies of professionalism, accountability, strong oral and written communication, organization, time management, resourcefulness, the superior ability to deal with people in a positive, tactful and professional manner.

The candidate will possess the following qualifications:
Degree, diploma or certificate in administration, business or office administration or related field.
Proficiency with technology and web-based platforms.
Knowledge and application of records management
Other combinations of applicable education, training, and experience, which provide the knowledge, abilities, and skills necessary to perform the position may be considered.

The successful candidate will possess the following experience, knowledge, and abilities:
Provide daily administrative support to the Executive Director to ensure effective operation of the consortium.
Provide support to contracted and seconded staff as required.
Management of the office including receptionist duties, organization of materials, receive, review and distribute incoming mail, management of paper and electronic documents and files, as well as resource and supply purchases.
Management and coordination of office software, technology support and maintenance with external vendors
Logistical planning for and assisting with meetings, including minute taking.
Provide programing supports as directed by the Executive Director, such as:
Create and manage speaker/facilitator contracts and/or agreements and maintain ongoing communication with speakers/facilitators as liaison with the consortium.
Coordinate all aspects of a learning opportunity event from initial data base set-up to final participant reports, including hosting of events.
Contact suitable presenters, organize learning opportunities/programs and negotiate contracts on an as-needed basis.
Manage and maintain reporting, including, providing program data analysis and reporting of professional learning opportunities.
Manage and maintain on-line payment system, (i.e. credit card processing).
Provide public relations service to partners, stakeholders, presenters, and others as directed by the Executive Director.
To accept other delegated responsibilities at the discretion of the Executive Director.
Please submit a resume, with references, and a letter of application that demonstrates the extent to which your education and experiences fulfills the knowledge, skills and attributes for this position.
We appreciate and thank you for your application; however, we contact only those candidates who are selected for an interview. The NRLC reserves the right to check references prior to the scheduling of interviews. Please include three references and updated contact information with your application.
Deadline for receipt of submissions is June 8th, 2023 or until a suitable candidate is found.
Please submit your application online: Job Posting - Grande Prairie Public School Division | Executive Assistant (simplication.com)
Questions can be directed to Sandra Ciurysek, NRLC Executive Director at sandra.ciurysek@arpdc.ab.ca
About the NRLC
Northwest Regional Learning Consortium (NRLC) is one of 7 consortia in Alberta established to support regional and provincial professional development needs for all those who influence student learning. NRLC is governed by the College of Alberta School Superintendents (CASS) and is responsive to the needs of school authorities in its role of creating professional learning opportunities in an ongoing, coordinated and cost effective manner. Our mission is "Partners in Adult Learning for Students' Sake" and we provide a wide range of learning opportunities for school jurisdictions, private, charter and band-operated schools in Northern Alberta.